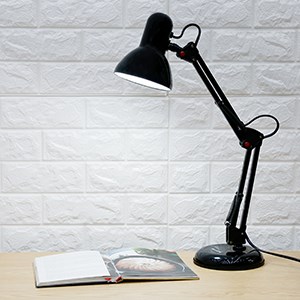 Hi everybody! What do you call this kind of lamp?
Your answers will be highly appreciated.
StevenLoan
ACCESS_POST_ACTIONS
---
Generally, we may talk about a "desk lamp" or "desk light".
That specific design of desk lamp is usually referred to as an "anglepoise" lamp.
"Anglepoise" is in fact a registered trademark, but much like "Kleenex", "Hoover" and so on, the term has become genericized and is used to refer to all desk lamps of a similar design, and not just those sold under the
Anglepoise
brand.
See also
https://en.wikipedia.org/wiki/Anglepoise_lamp
on the history of the Anglepoise lamp.
ACCESS_POST_ACTIONS
Signature:
Phil White
Non sum felix lepus
---
I didn't realize there was a specific name for them. I'm not sure how many people in North America would know what an "anglepoise" is. We usually call them "swing-arm", "balance-arm" or articulating desk lamps. Looking at the one on my desk, It's really a great design and seems to have hardly changed since the original in 1935. There's really not much to improve on.
ACCESS_POST_ACTIONS
---
---
ACCESS_END_OF_TOPIC